Double Cone blenders are used in a many different industries, including the pharmaceutical, food and chemical industries. While choosing whether a cone blender is the right choice for your needs, it is important to consider a variety of different factors, particularly when comparing cone blenders to ribbon blenders. It should be understood that cone blenders and ribbon blenders perform a similar function in a processing environment. Differences do exist in the design of each product. There are also differences in terms of the advantages offered by each. By considering those differences, you can make a more informed choice regarding whether a cone blender or a ribbon blender is the best option for your processing needs.
One of the most important factors that many companies will wish to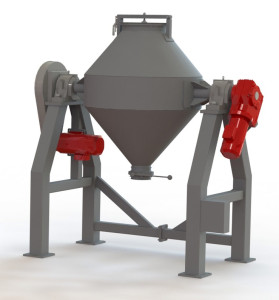 consider is price. Ribbon blenders are often less expensive than Cone blenders of comparable capacity. While price is important, it is not the only factor that should be considered. You will also need to consider which type of product will work more efficiently in your specific application. For instance, think about the amount of space that is available in your processing environment. In the event that space is at a premium, a vertical blender may be a better option, as it requires a smaller footprint. If overhead space is limited in your plant or lab, then a horizontal ribbon blender may be the better choice. Generally A ribbon blenders is more commonly used in the food processing industry and a cone or double cone blender is more popular withing the pharmaceutical and chemical industries.
The risk for contamination should be considered as well. In high-risk environments, a cone blender is often the best choice. Finally, consider how much cleaning needs to be conducted between batches. Cone blenders are easier to clean than ribbon blenders, making maintenance easier and faster